One of the issues with living far away from America is that you cannot keep up with all the new and niche publications that are part of your field. 
Shelf Awareness
(cool logo with a Buddha like figure writing on a twill pen) is for the book trade, which for a writer, is arguably a very important market.  I didn't know this outlet.  They have published a lovely review of the book
here
.  Also pasted below.  And the book is only out Jan 23rd in the US and in March in India.
Review: The Milk Lady of Bangalore: An Unexpected Adventure
The Milk Lady of Bangalore: An Unexpected Adventure by Shoba Narayan (Algonquin, $24.95 hardcover, 272p., 9781616206154, January 23, 2018)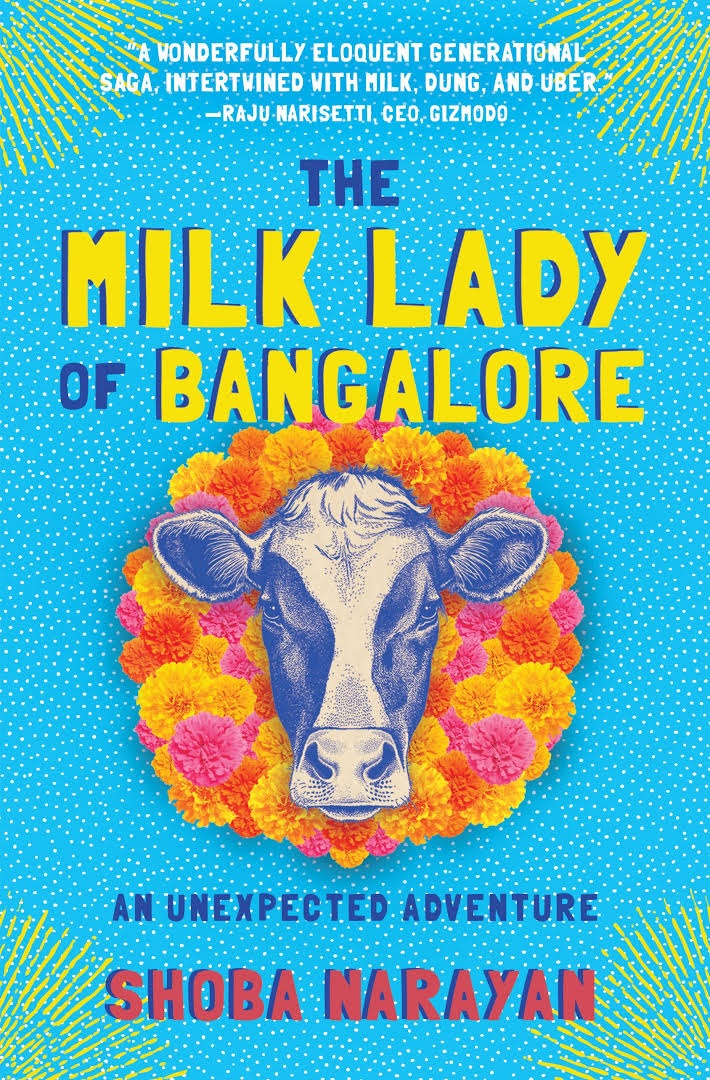 When Shoba Narayan moved with her family from New York City to Bangalore, India, the last thing she expected to see, wedged sideways on the elevator in her new apartment building, was a cow. Yet, the sight of it brought a smile to her face; after 20 years of living in the U.S., the cow's presence made her realize she was home again.
The cow belonged to Sarala, the milk lady who sold fresh milk across the street, and it was needed for a housewarming ceremony on the third floor. Good luck would be assured by having the cow in the apartment and even better luck if the cow pooped in the apartment. Hoping for the same auspicious beginnings, Narayan managed to have the cow walk through her new apartment, too, and was soon on a journey into the milk and cow culture of India.
She began buying fresh, raw milk from Sarala, a business arrangement that grew into a deep friendship. Narayan learned to see cows and the culture of cows in India in a new light. And when Sarala approached Narayan with the idea of buying a cow to increase her herd in exchange for free milk, their bond grew stronger.
Using humor and charm, Narayan blends her tale of learning about cows from Sarala and her family with the cultural, religious and historical importance of cows in India. In Hindu myth, they play many roles: "warrior-princess, mother-to-the-world, primordial fertility goddess, fulfiller of wishes, sacrificial mother, and harbinger of immortality. The cow is a quagmire of contradictions and controversies."
Narayan also details the varieties of cows, how the animal's disposition will change the milk, which milk is best to drink at certain times and the difference between A1 and A2 milk. She even investigates the various medicinal uses of cows' urine distillate–personally!–while sharing other quirky and interesting facts about bovines in general.
Narayan's descriptions of India are rich and specific, making readers feel as if they are there, with cows wandering through traffic or chewing on the grass in the park. Anyone with the slightest interest in India or cows will find Narayan's memoir, with its myriad insights, a delight.
—Lee E. Cart, freelance writer and book reviewer
Shelf Talker: Returning to India after many years living in New York City, Shoba Narayan studies the culture surrounding the sacred cow.